Last month, I got this wild idea to make coffee cup soaps and coffee cake soaps. I would package them together and call it a "Coffee Break." It was something of an adventure, because the idea included actually moulding the CP soap in coffee cups. When moulding CP soaps, it really helps to use something flexible or something out of which the soap will come easily. Usually I use slab or box moulds – lined – and I can pull the soap out by the liner. I didn't want those odd lines in my soaps, so I didn't line the cups. Instead, I greased them heavily with Vaseline (soapmakers' trick) and then poured the soap in.
The soap is a delight. I used coffee in the water phase and a yummy Coffee Bean FO for the scent. It's a great wake-up, and the soap itself is very moisturizing and skin-nourishing. I finally got the soaps out of the cups this week. They're a bit soft, but I'm confident they'll harden up nicely.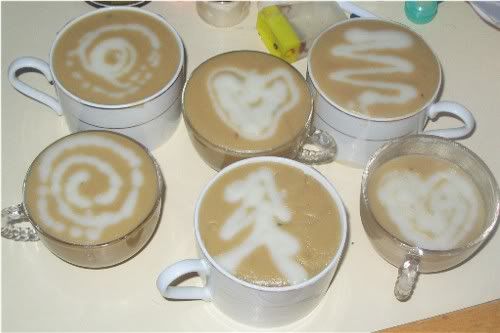 Well, you can't very well have coffee without coffee cake, right? I made the coffee cake soap a few weeks ago and scented it with Cinnamon Coffee Cake fragrance. It really does smell good enough to eat. Here's what that soap looks like…

It'll be a week-and-a-half before I even think about packaging these, as I want to give the soaps the maximum amount of time to cure before I get them ready to sell. The price will be dependent on the final weight of the soaps, but figure that each coffee cup yields two bars, and each set will come with two bars of the coffee cake soap, so that's like getting 4 bars of soap in each set. These will make great gifts for the coffee lovers on your list!